Overview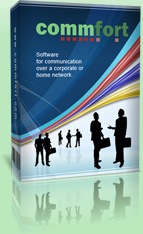 CommFort is a client-server software especially designed for efficient communication over home or corporate networks, combining such information exchange as audio and video conferencing, text messaging, as well as fast file transfers. The CommFort software is capable of working on both local area networks, as well as on the Internet, while maintaining support for terminal clients. In an effort to minimize network load, the software leverages an incorporated advanced network buffering mechanism to ensure the maximum network efficiency with bandwidths ranging from 32 Kbit/s to 1000 Mbit/s during file and image transfers. Moreover, the images transferred via messages, private or public channels are automatically compressed to facilitate speed and network efficiency.
Unlike similar Internet services, the internal corporate data never leaves the company's local area network, which ensures the security and full control over the information that is being exchanged among employees. The users of CommFort software can take advantage of a full spectrum of communication tools; including channel communication, text messaging, image transfers, notification boards, file transfers, video and audio calls as well as video conferencing. Thus meeting the highest corporate demands of any size whilst streamlining the workflow and collaboration between multiple departments in medium and large enterprises.
Moreover, CommFort is capable to withstand very high traffic loads, supporting up to 10 000 simultaneously connected users. The number of attendees is only limited by the network capabilities of the company. In an effort to further save network resources, the data is transferred directly between users bypassing the server during audio and video calls, ensuring the highest audio and video quality with minimum time delays.
Despite the sophisticated capabilities, CommFort Software offers a very user-friendly interface, that facilitates the end-user experience without compromising efficiency and security for data.
Textual communications
CommFort combines everything necessary to facilitate textual communication between users: communication across channels, messaging, and posting to bulletin boards. Message history is stored on the client side and optionally on the server.
Exchanging images
CommFort makes it possible to quickly, conveniently and efficiently share images. They are embedded into common, private channels or into messages, and they are automatically compressed to ensure maximum comfort and minimum network load. And when you click on a thumbnail, you open the original.
Transferring files
CommFort allows you to share files and folders with the greatest possible speed and convenience. Just drag and drop the files or folders on the user image in the list, and the transfer will begin. Advanced buffering mechanisms make the most efficient use of network resources with bandwidths ranging from 32 Kb/s to 1000 MB/s. The system can resume file transfers if a connection is broken for up to 5 minutes.
Audio and video calls
CommFort allows you to make audio and video calls. The optimization of the service for high-speed networks has allowed us to provide the highest quality video and sound with minimum time delays.
Video conferencing
CommFort allows you to provide synchronous (where everyone can see and hear each other at once) and asynchronous (only one person is seen and heard at a time) video conferencing. Participants can share their desktops. It is possible to host an audio conference without video. All configuration is performed by the administrator on the server. Clients just need to click on the "Connect to conference" button.
Sharing the screen and managing the computer
CommFort allows clients to provide each other with access to view the screen or control the management of the computer, which allows you to improve efficiency when working on joint projects.
Network
CommFort can work not only across local area networks, but also on the Internet. Terminal clients are supported.
Log in
Password protected log in access means that each user can be assigned their own account.
Administration
CommFort offers powerful capabilities for centralized administration. Rights management allows you to assign individual rights and privileges to any user. A flexible system of restrictions, bad word filter and flood filter allow you to maintain order when managing a large number of users. You can manage groups, channels, and customer settings from the server.
Load
CommFort can work on both small and large networks with up to 10,000 simultaneously connected user clients. The number of videoconferencing participants is limited only by network capabilities.